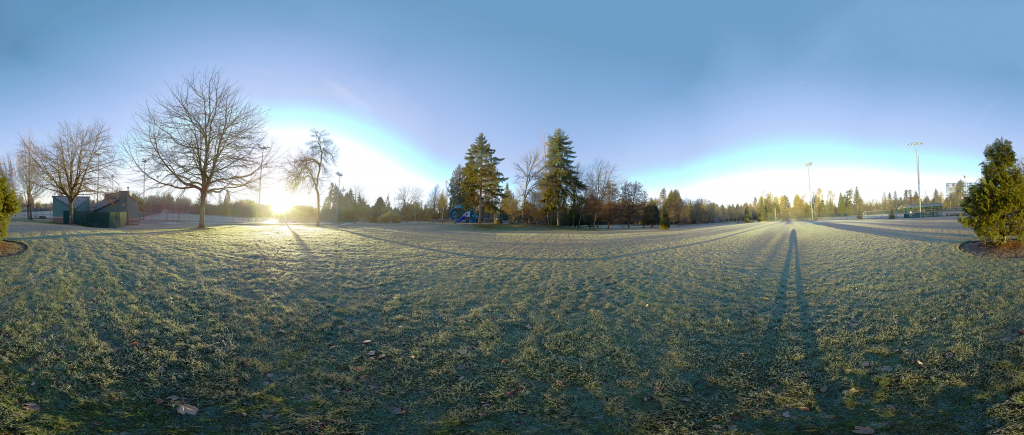 For more information on how to use this HDR, read the instructions and FAQ
Specifications:
Licence: Creative Commons 0/Public Domain
Dynamic Range: 22.38 Stops
Camera: Canon EOS 70D
Lens: Canon 18-135 STM
Set EV: +12.14 @ 100 ISO – You can adjust the exposure after the fact if you need
Coverage: 360 x 168.1
Date Taken: 11/22/2015 7:58 – 8:06 AM
Location: Northern United States
This HDR captures the full dynamic range of the sun. It has a few weak points in the stitching and merging; however, it is still quite useful for most purposes.
I was inspired to create this HDR by Greg Zaal's Mpumalanga Veld HDR which also captures the full brightness of the sun. Most of my workflow is based on the one Greg Zaal shared.
Test Render @ 128 samples

Lessons Learnt
Keep a checklist of camera settings, I accidentally left auto white balance on, and had to correct it (Hurrah! for raw files)
Here is a quick checklist:
Card In Camera
No Lens Cap
White Balance
Media Format (turn raw on)
Manual Exposure
Brackets Correct
shutter and f-stop
Any Filters?
Tags: